First credit must be given to the SimpleOpenNI project, which created a clean and manageable interface to OpenNI & NITE.
The SimpleOpenNI project describes itself this way:
"This project is a simple OpenNI and NITE wrapper for Processing. Therefore not all functions of OpenNI are supported, it's meant more to deliver a simple access to the functionality of this library."
They did a great job.  And although they created it specifically for Processing.  Because it was such a great project, we have decided to Borg it in.
Regrettably - the OpenNI has some repo/pathing problems.  They will be fixed, but before that happens the system in the repo/libraries path needs to be removed.  And before that happens the repo has to be fixed.
This link describes a work-around
References
---
Historical references
This is the service page for OpenNI.  
Currently, this service is under dire need of development & stabalization.  OpenNI itself seems to be in dire need of development and stabalization ;)   DWR has tested SimpleOpenNI & OpenNI "unstable" releases.
To Do
fix packages in repo
matrix of working, non-working, kinect, xtion, and un-testedcombinations
images back from camera
gesture capture & recognition
distribute 1 binary for status check
split service into two - GestureRecognition & PointCloud
OS
Bitness
Xtion
Kinect
Repo
Linux (Ubuntu)
32
Works
Needs repo bundle & driver info
Works - needs work
org.OpenNI.jar
Native - libnimCodecs.so libnimMockNodes.so libnimRecorder.so libOpenNI.jni.so libOpenNI.so
Linux (Ubuntu) 12.10 ?
64
 
 
org.OpenNI.jar
Missing Native Files !
Windows (XP)
32
 
 
org.OpenNI.jar
Missing Native Files !
Windows (7)
64
 
Did Work - needs verification
org.OpenNI.jar
Native - OpenNI.jni64.dll OpenNI64.dll
Block Diagram of Modules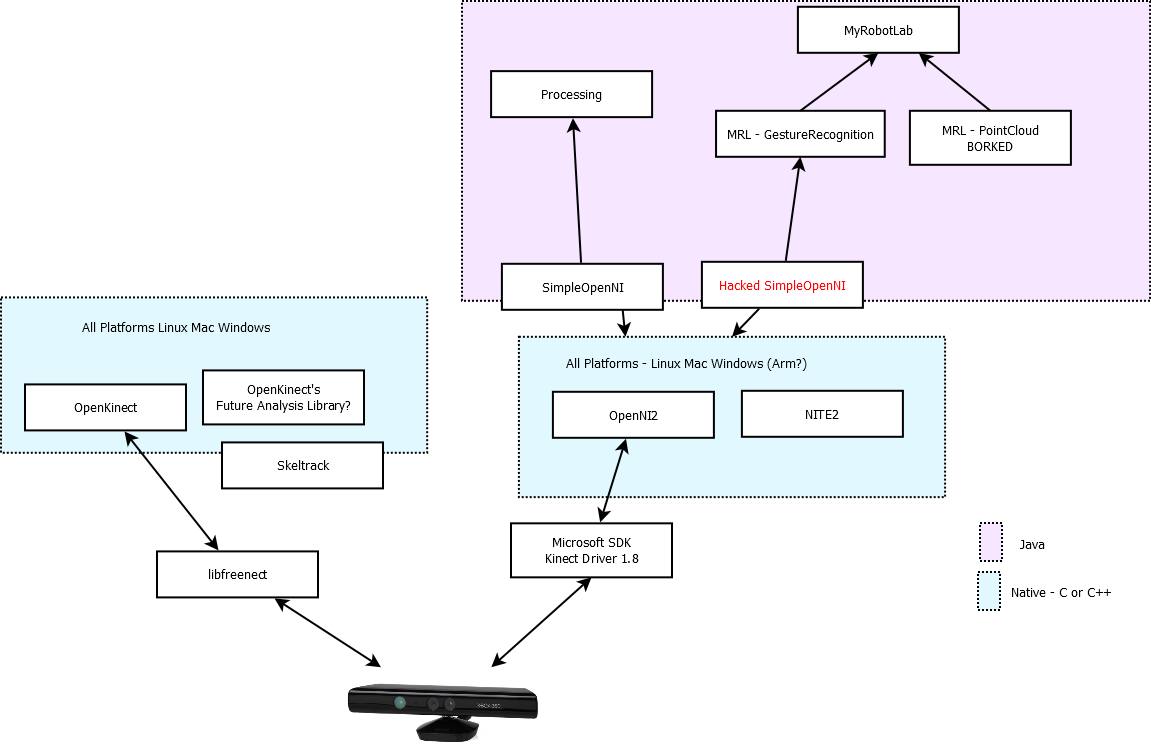 Python
[[service/OpenNI.py]]
Questions