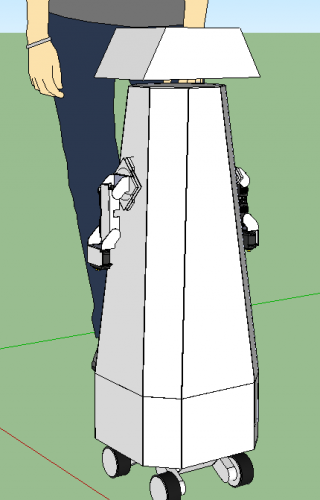 That's "House-ton."  The way they say it in New York City.
If you're interested in robots enough to build one, then at least at some point you were probably inspired by the likes of Robbie the Robot from Forbidden Planet.  Or Robot B9 from Lost in Space.  Or Johnny Five from Short Circuit.  Or any of a number of robots from countless movies and TV shows that traveled with, assisted and interacted with their human friends and associates.
I don't know about you, but I've always wanted a robot that could move around my home, talk to me about what's going on, and even small talk about inconsequential things.  Maybe do some simple tasks around the house--but that is definitely NOT the goal here.  After all, when you come down to it, how much did Robot B9 ACTUALLY do for Will Robinson?
Houston will be a full sized "companion robot" standing about 4 feet tall, containing an Atom 525 based single board computer, and an Arduino Mega 2560 used as an interface and controller for the motors and servos that make up the complete system.
An Xtion Pro Live will be the primary sensor.  There will also be odometry from the motorized drive, and position sensing of the 4 DOF arms.
This is a hobby level robot, definitely a learning experience for me and in spite of the lofty goals, as low budget as I could possibly make it.  So far, a fairly complete list of parts comes in at under $800.  I've been collecting parts for months, and I'm finally to the point where things can start happening.
Here's an early concept sketchup screen capture  Already outdated, but not far from what's actually been built so far.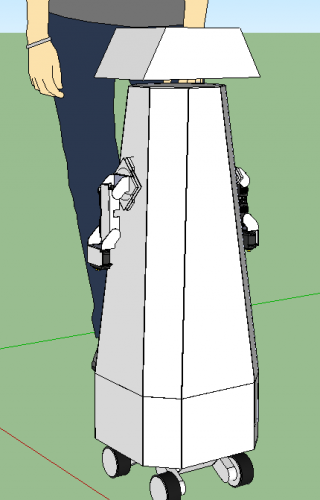 This is a layout of Houstons electronics, motors and servos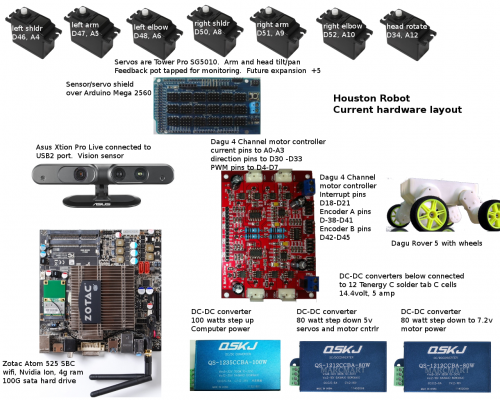 Houston will need an Arduino service augmented with Mega capability !
Arduino Mega 2560 PIN mapping table
| Pin Number | Pin Name | Mapped Pin Name |
| --- | --- | --- |
| 1 | PG5 ( OC0B ) | Digital pin 4 (PWM) |
| 2 | PE0 ( RXD0/PCINT8 ) | Digital pin 0 (PWM) (RX0) |
| 3 | PE1 ( TXD0 ) | Digital pin 1 (PWM) (TX0) |
| 4 | PE2 ( XCK0/AIN0 ) |   |
| 5 | PE3 ( OC3A/AIN1 ) | Digital pin 5 (PWM) |
| 6 | PE4 ( OC3B/INT4 ) | Digital pin 2 (PWM) |
| 7 | PE5 ( OC3C/INT5 ) | Digital pin 3 (PWM) |
| 8 | PE6 ( T3/INT6 ) |   |
| 9 | PE7 ( CLKO/ICP3/INT7 ) |   |
| 10 | VCC | VCC |
| 11 | GND | GND |
| 12 | PH0 ( RXD2 ) | Digital pin 17 (PWM) |
| 13 | PH1 ( TXD2 ) | Digital pin 16 (PWM) |
| 14 | PH2 ( XCK2 ) | (TX3) |
| 15 | PH3 ( OC4A ) | Digital pin 6 (PWM)(RX3 ) |
| 16 | PH4 ( OC4B ) | Digital pin 7 (PWM)(TX2) |
| 17 | PH5 ( OC4C ) | Digital pin 8 (PWM)(RX2 ) |
| 18 | PH6 ( OC2B ) | Digital pin 9 (PWM)(TX1) |
| 19 | PB0 ( SS/PCINT0 ) | Digital pin 53 (PWM)(RX1) |
| 20 | PB1 ( SCK/PCINT1 ) | Digital pin 52 (PWM)(SDA) |
| 21 | PB2 ( MOSI/PCINT2 ) | Digital pin 51 (PWM)(SCL) |
| 22 | PB3 ( MISO/PCINT3 ) | Digital pin 50 |
| 23 | PB4 ( OC2A/PCINT4 ) | Digital pin 10 (PWM) |
| 24 | PB5 ( OC1A/PCINT5 ) | Digital pin 11 (PWM) |
| 25 | PB6 ( OC1B/PCINT6 ) | Digital pin 12 (PWM) |
| 26 | PB7 ( OC0A/OC1C/PCINT7 ) | Digital pin 13 (PWM) |
| 27 | PH7 ( T4 ) |   |
| 28 | PG3 ( TOSC2 ) |   |
| 29 | PG4 ( TOSC1 ) |   |
| 30 | RESET | RESET |
| 31 | VCC | VCC |
| 32 | GND | GND |
| 33 | XTAL2 | XTAL2 |
| 34 | XTAL1 | XTAL1 |
| 35 | PL0 ( ICP4 ) | Digital pin 49 |
| 36 | PL1 ( ICP5 ) | Digital pin 48 |
| 37 | PL2 ( T5 ) | Digital pin 47 |
| 38 | PL3 ( OC5A ) | Digital pin 46 (PWM) |
| 39 | PL4 ( OC5B ) | Digital pin 45 (PWM) |
| 40 | PL5 ( OC5C ) | Digital pin 44 (PWM) |
| 41 | PL6 | Digital pin 43 |
| 42 | PL7 | Digital pin 42 |
| 43 | PD0 ( SCL/INT0 ) | Digital pin 21 (SCL) |
| 44 | PD1 ( SDA/INT1 ) | Digital pin 20 (SDA) |
| 45 | PD2 ( RXDI/INT2 ) | Digital pin 19 |
| 46 | PD3 ( TXD1/INT3 ) | Digital pin 18 |
| 47 | PD4 ( ICP1 ) |   |
| 48 | PD5 ( XCK1 ) |   |
| 49 | PD6 ( T1 ) |   |
| 50 | PD7 ( T0 ) | Digital pin 38 |
| 51 | PG0 ( WR ) | Digital pin 41 |
| 52 | PG1 ( RD ) | Digital pin 40 |
| 53 | PC0 ( A8 ) | Digital pin 37 |
| 54 | PC1 ( A9 ) | Digital pin 36 |
| 55 | PC2 ( A10 ) | Digital pin 35 |
| 56 | PC3 ( A11 ) | Digital pin 34 |
| 57 | PC4 ( A12 ) | Digital pin 33 |
| 58 | PC5 ( A13 ) | Digital pin 32 |
| 59 | PC6 ( A14 ) | Digital pin 31 |
| 60 | PC7 ( A15 ) | Digital pin 30 |
| 61 | VCC | VCC |
| 62 | GND | GND |
| 63 | PJ0 ( RXD3/PCINT9 ) | Digital pin 15 |
| 64 | PJ1 ( TXD3/PCINT10 ) | Digital pin 14 |
| 65 | PJ2 ( XCK3/PCINT11 ) |   |
| 66 | PJ3 ( PCINT12 ) |   |
| 67 | PJ4 ( PCINT13 ) |   |
| 68 | PJ5 ( PCINT14 ) |   |
| 69 | PJ6 ( PCINT 15 ) |   |
| 70 | PG2 ( ALE ) | Digital pin 39 |
| 71 | PA7 ( AD7 ) | Digital pin 29 |
| 72 | PA6 ( AD6 ) | Digital pin 28 |
| 73 | PA5 ( AD5 ) | Digital pin 27 |
| 74 | PA4 ( AD4 ) | Digital pin 26 |
| 75 | PA3 ( AD3 ) | Digital pin 25 |
| 76 | PA2 ( AD2 ) | Digital pin 24 |
| 77 | PA1 ( AD1 ) | Digital pin 23 |
| 78 | PA0 ( AD0 ) | Digital pin 22 |
| 79 | PJ7 |   |
| 80 | VCC | VCC |
| 81 | GND | GND |
| 82 | PK7 ( ADC15/PCINT23 ) | Analog pin 15 |
| 83 | PK6 ( ADC14/PCINT22 ) | Analog pin 14 |
| 84 | PK5 ( ADC13/PCINT21 ) | Analog pin 13 |
| 85 | PK4 ( ADC12/PCINT20 ) | Analog pin 12 |
| 86 | PK3 ( ADC11/PCINT19 ) | Analog pin 11 |
| 87 | PK2 ( ADC10/PCINT18 ) | Analog pin 10 |
| 88 | PK1 ( ADC9/PCINT17 ) | Analog pin 9 |
| 89 | PK0 ( ADC8/PCINT16 ) | Analog pin 8 |
| 90 | PF7 ( ADC7/PCINT15 ) | Analog pin 7 |
| 91 | PF6 ( ADC6/PCINT14 ) | Analog pin 6 |
| 92 | PF5 ( ADC5/TMS ) | Analog pin 5 |
| 93 | PF4 ( ADC4/TMK ) | Analog pin 4 |
| 94 | PF3 ( ADC3 ) | Analog pin 3 |
| 95 | PF2 ( ADC2 ) | Analog pin 2 |
| 96 | PF1 ( ADC1 ) | Analog pin 1 |
| 97 | PF0 ( ADC0 ) | Analog pin 0 |
| 98 | AREF | Analog Reference |
| 99 | GND | GND |
| 100 | AVCC | VCC |