kmcgerald
: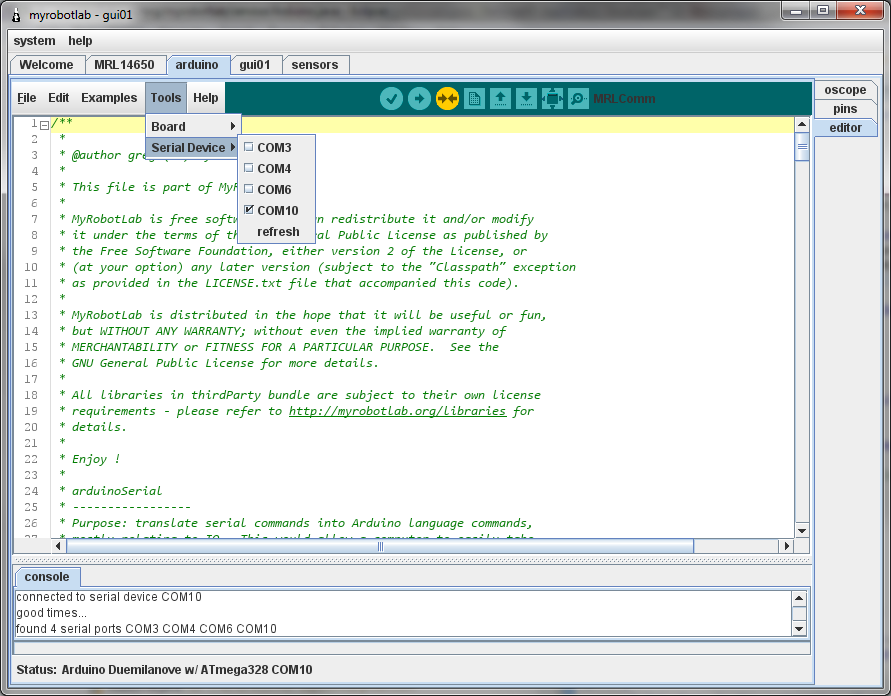 like there in MRL.
kmcgerald
:
When you start up the Arduino service in MRL, one of the tabs in that service will have the MRLComm.ino loaded in it. Copy everything out of there and paste it into the external Arduino IDE you installed.
bhouston
:
OOOOOOOOOOOOOOOOOOOOOOOOOOO.Where do I get the info to put into the Arduino IDE?
GroG
:
won't respond to voice _at all_ or after a power_down & power_up ?
bhouston
:
Powerup and powerdown is working with a simple script. But now it won't respond to voice commands. Sent another No worky
GroG
:
the installer installs the Arduino IDE
GroG
:
now it has an "installer" which I believe you are having problems with - the "installer" is _not the same_ and the Arduino program
GroG
:
the video is a little out of date ... Arduino in the past you just download and unzip ..
GroG
:
I feel you have never used the Arduino IDE at all .. which is both surprising and impressive