Sorry about my poor English.
This is my T-800: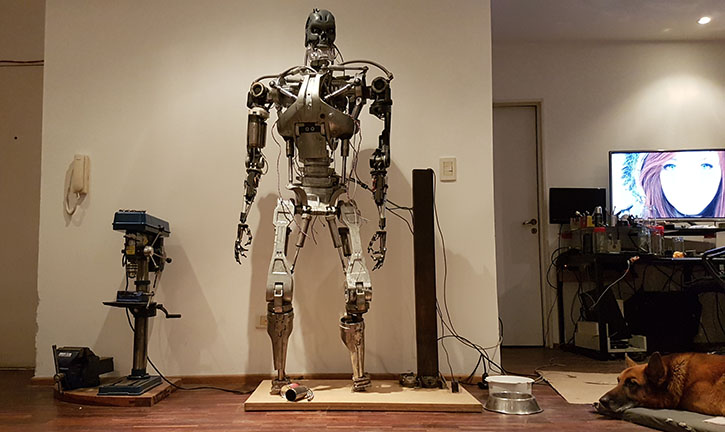 This project is going very slow due to lack of time, 2 years already. I'm trying to make it as close as possible to the T-800.
I follow this instructions to install UV4L
https://www.linux-projects.org/uv4l/installation/
I have a wide angle NoIR Camera.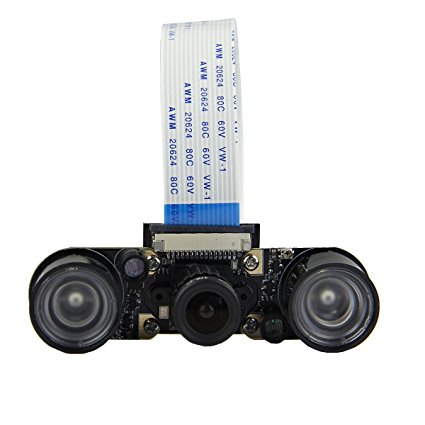 I use 700 x 200, I think with 200 pixels heigh I'm getting the most important region and trying to save resources and bandwidth, and not need to use PyramidDown later.
Using this command:
sudo uv4l -nopreview --auto-video_nr --driver raspicam --encoding mjpeg --width 700 --height 200 --framerate 30 --server-option '--port=8080' --server-option '--max-queued-connections=30' --server-option '--max-streams=25' --server-option '--max-threads=29'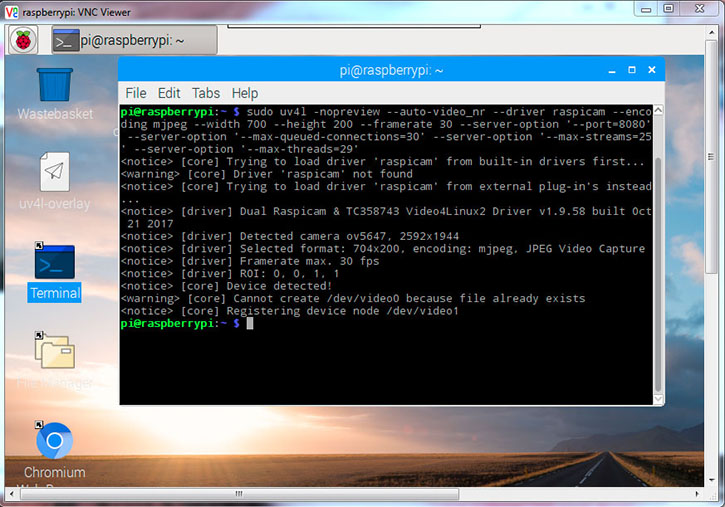 Is not grayscale, it looks like this because it does not have an infrared filter, ideal for night vision.

This is how I connect the Raspberry to PC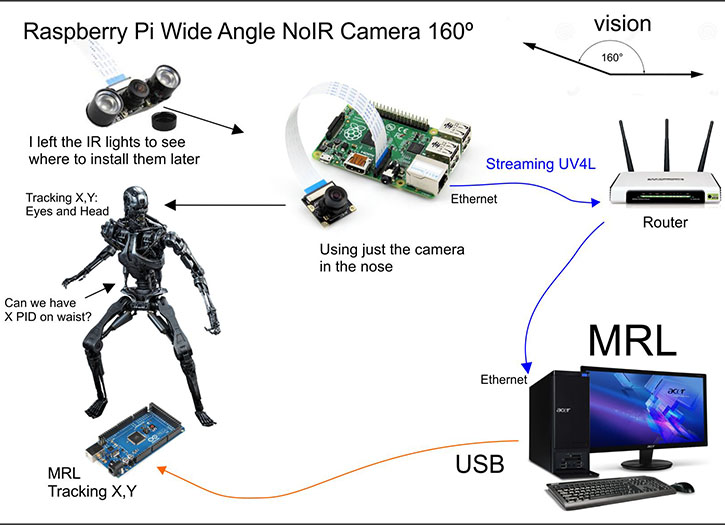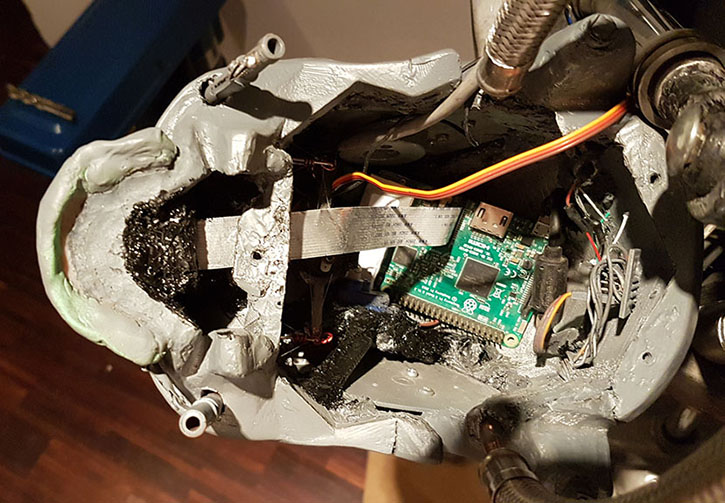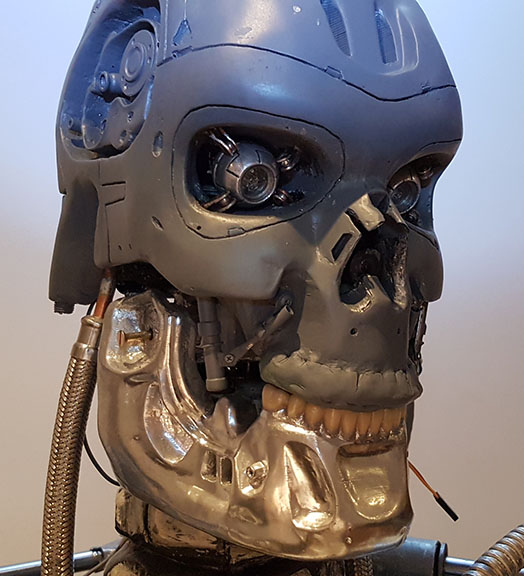 Upper teeth protected for the silver painted stage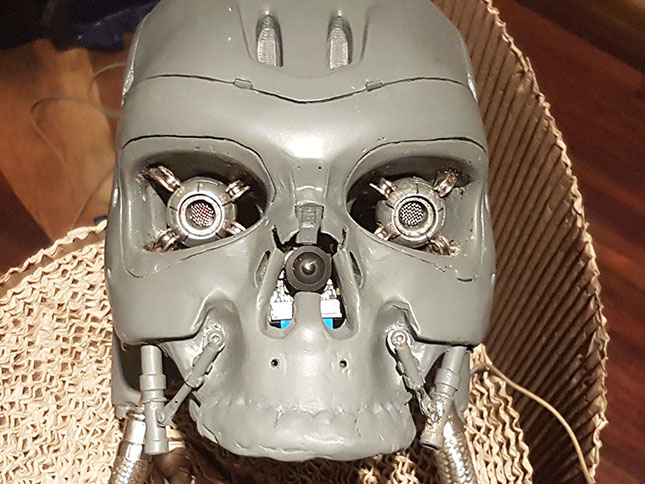 I open Myrobotlab and start opencv.
In my case Raspberry Pi is in 192.168.1.106
Settings:
MJpeg
file
http://(raspberry-IP):8080/stream/

video.mjpeg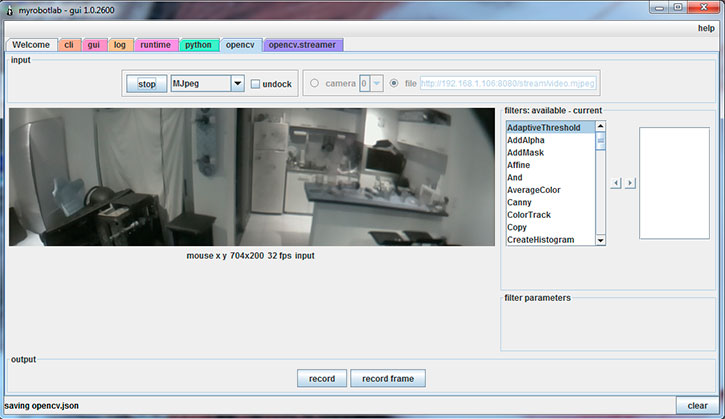 Face Detect Filter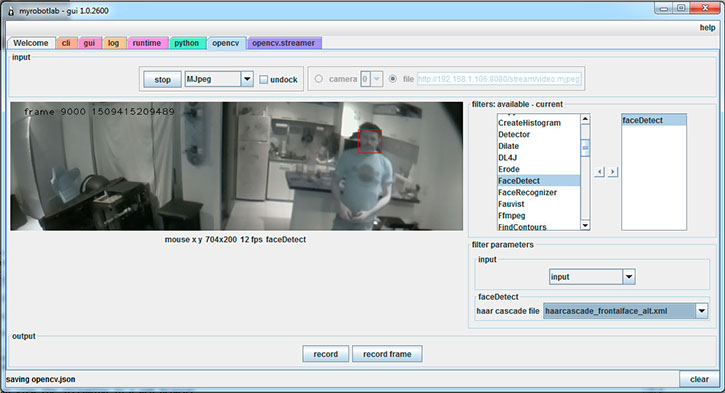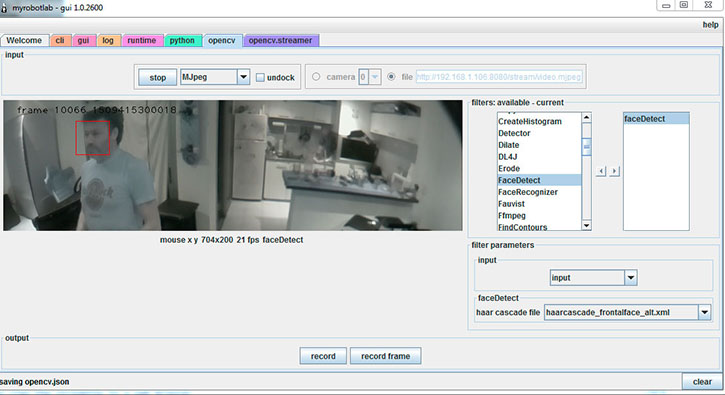 Tracking.py:  I modified the file in this way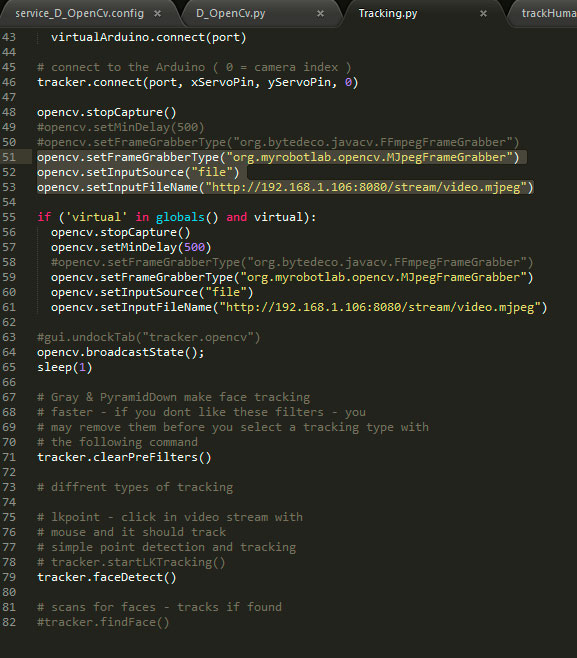 I don't know why ignore the MJpeg setting in the FrameGrabber.
Or I need to set in other place?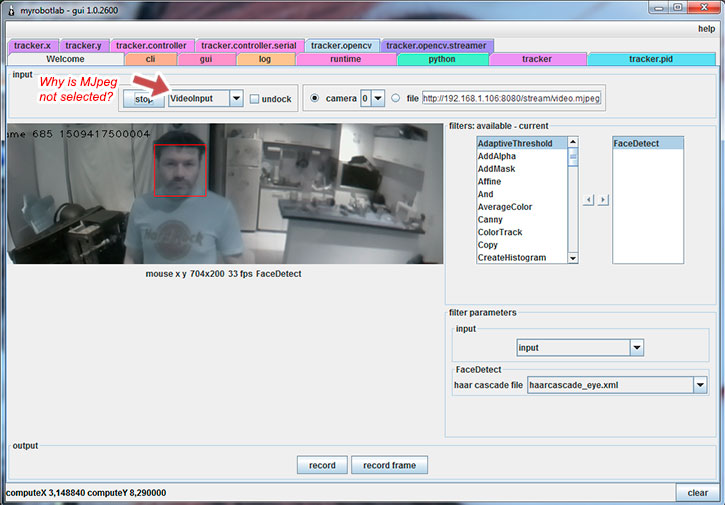 -----------------------------------------------------------------
START_INMOOV.bat
I modified this files to see if it worked: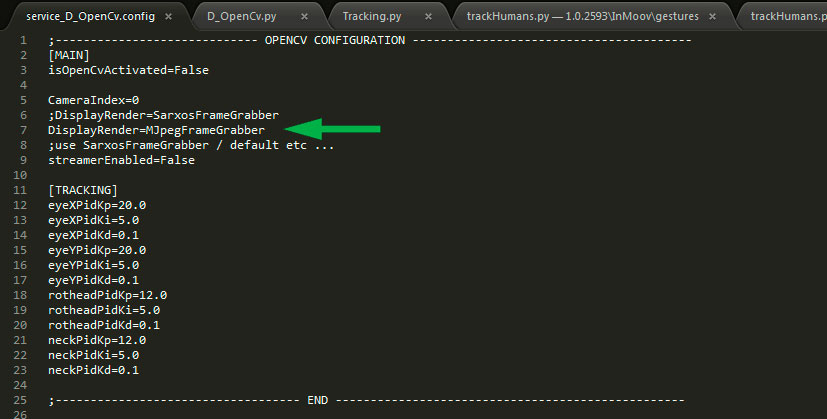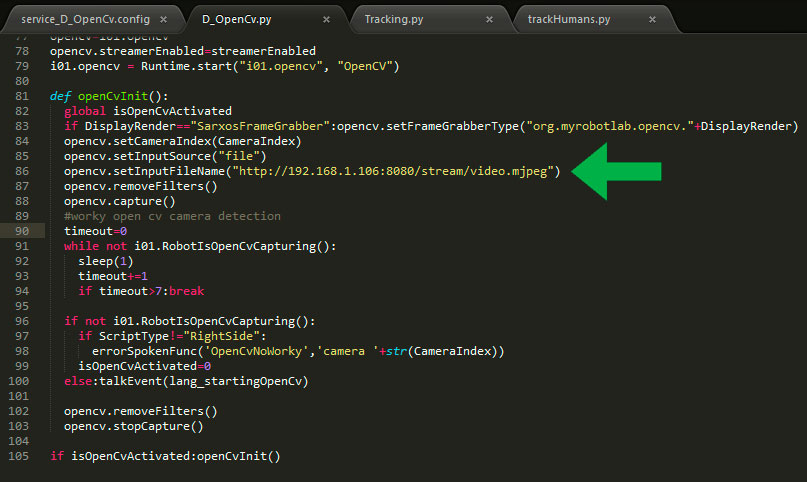 Starting START_INMOOV.bat
Y say: "Search for humans"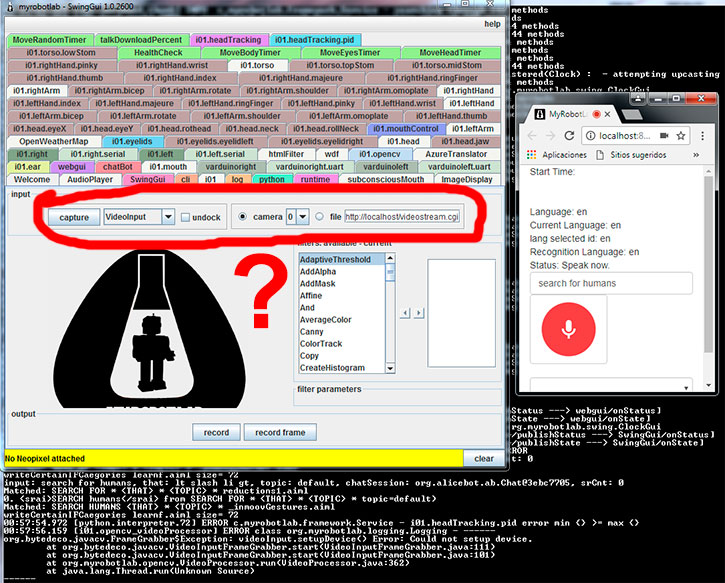 if I select it manually it works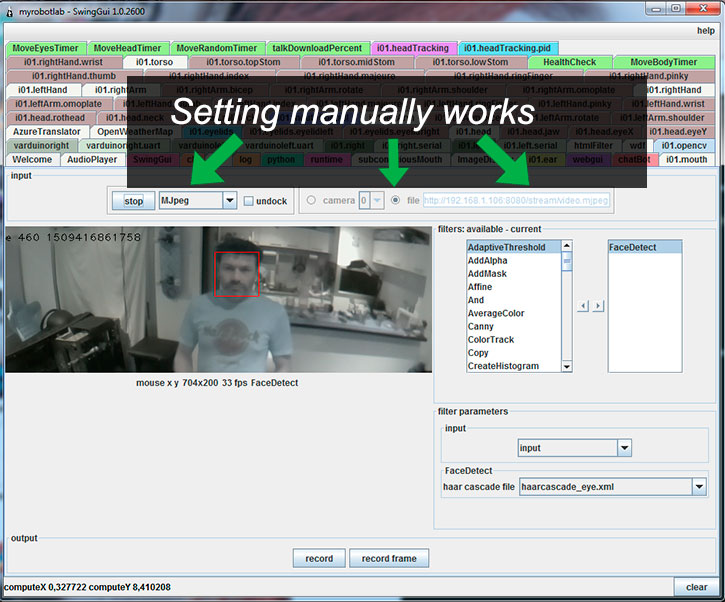 That's what I could do with UV4L streaming
I do not know if what I'm doing is right, I hope it's helpful.
---------------------------------------
What's next?
Terminator vision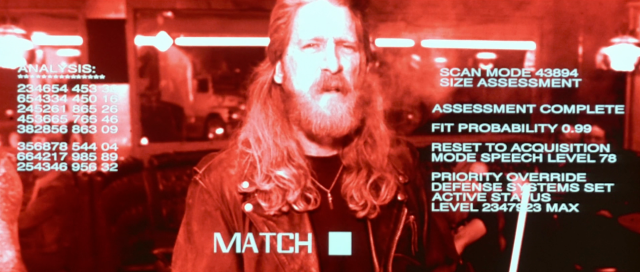 This is what I'm trying to get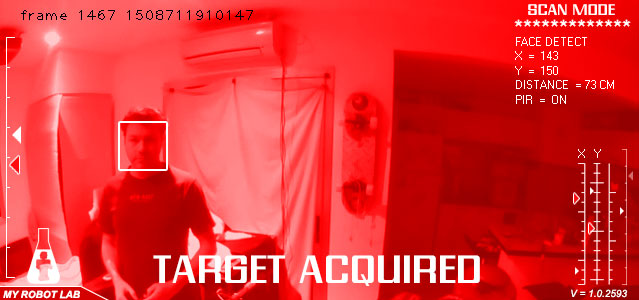 My questions:
Is it possible to put a PNG overlay after the Face Detect filter and not affect the performance/delay of tracking?
Is it possible to display X and Y values of the tracking on the overlay?
Can I have that screen in fullscreen? (Thinking to put a monitor next to the Terminator to show only his vision. I know, the resolution is very low).
/astro