Lets figure out how we can control InMoov & mobile platforms with the Xbox (and other controllers)
TODO
get visual controller pictures describing possible input
get Joystick service working with each and document the output events & number of component each controller has
make an easy & unified interface which allows configurable mapping,  deadzone and other capabilities
layout a strategy to map InMoov movements to this unified interface - so we would actually expect  different controllers to do the same thing when attached to InMoov
Button Map

| | | | | |
| --- | --- | --- | --- | --- |
| Button | XBOX 360 | PS3 DualShock3 (win/xbox driver | PS3 (Mac/KMC layout) | RumblePad2 |
| POV | Directional Pad | Directional Pad | N/A | Directional Pad |
| x | Left stick (left/right) | Left stick (left/right) | Left stick (left/right) | Left stick (left/right) |
| y | Left stick (up/down) | Left stick (up/down) | Left stick (up/down) | Left stick (up/down) |
| rx | Right stick (left/right) | Right stick (left/right) | N/A |   |
| ry | Right stick (up/down) | Right stick (up/down) | N/A |   |
| z | 1-0Left trigger  -1 to 0 Right trigger | 1-0Left trigger  -1 to 0 Right trigger | Right stick (left/right)   | Right stick (left/right) |
| rz | N/A? | N/A? | Right stick (up/down) | Right stick (up/down) |
| Button 0 | a | x | Select | 1 |
| Button 1 | b | circle | L3 | 2 |
| Button 2 | x | square | R3 | 3 |
| Button 3 | y | triangle | Start | 4 |
| Button 4 | Left Bumper | L1 | Dir Up | 5 |
| Button 5 | Right Bumper | R1 | Dir Right | 6 |
| Button 6 | Back | Select | Dir Down | 7 |
| Button 7 | Start | Start | Dir Left | 8 |
| Button 8 | Left Stick Press | Left Stick Press | L2 | 9 |
| Button 9 | Right Stick Press | Right Stick Press | R2 | 10 |
| Button 10 |   | N/A? | L1 |   |
| Button 11 |   | N/A | R1 |   |
UBERJOY
UberJoy is the "perfect" Archtype Software GamePad Controller
This is what is looks like.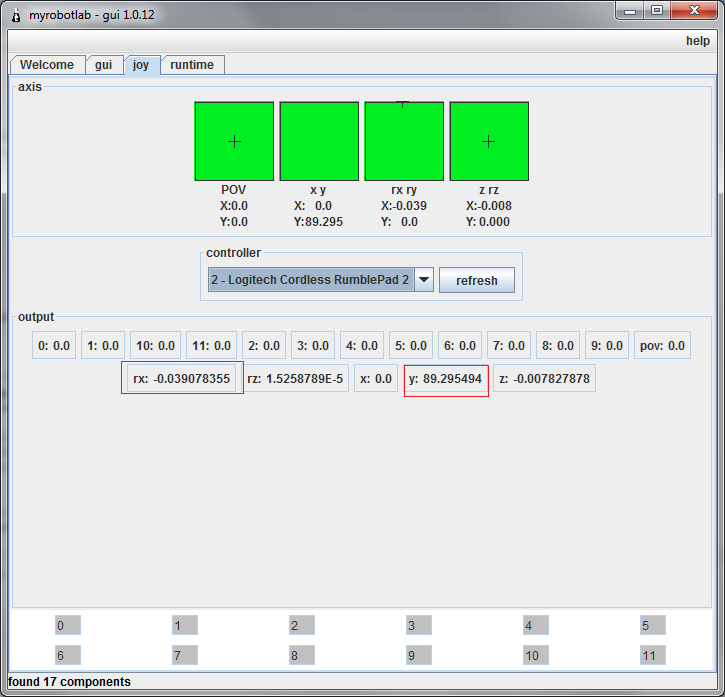 It currently has 3 Axis & 1 POV and 12 Buttons. Here also is my silly Rumblepad2 interfacing it. My Rumblepad onlly has 2 Axis and they are identified x y and z rz
But I thought I'd half impersonate an Xbox  controller. So I did this
joy = Runtime.start("joy", "Joystick")

joy.mapId("x", "rx")
This maps my x axis into an XBOX rx axis. Easy no ?
Later I decided I wanted to map the output values of my y axis to Servo positions
joy.map("y", -1, 1, 0, 180)
Easy.
Connecting to a Servo or Motor will be a single line.
joy.addRZListener(servo)
and a motor
joy.addZListener(motor)
And we can even map a button to an arbitrary identifier (it could just as easy be Stop or Go or something more useful :)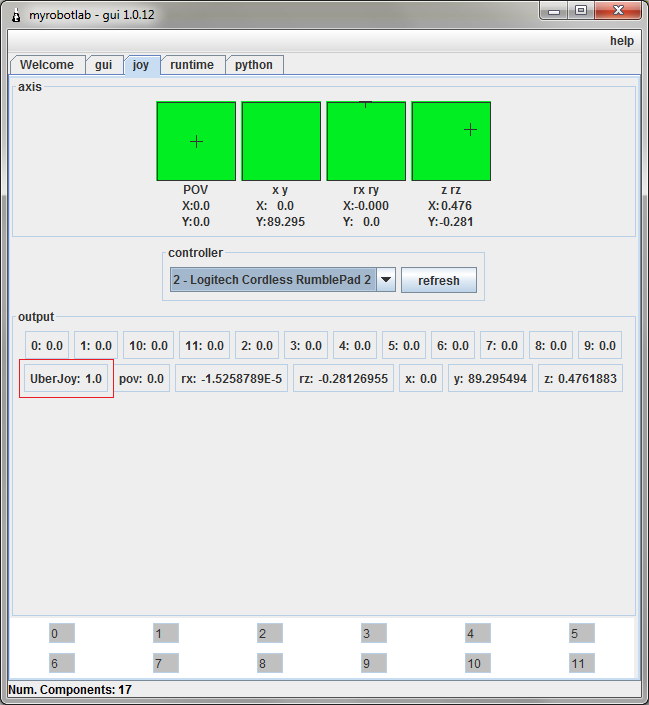 joy.mapId("0", "UberJoy")
XBOX
Number of components ???
RX & RY are analog events of the 2nd joystick vs Z & RZR on the RumblePad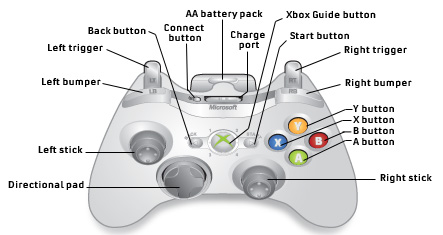 Logitech Rumblepad2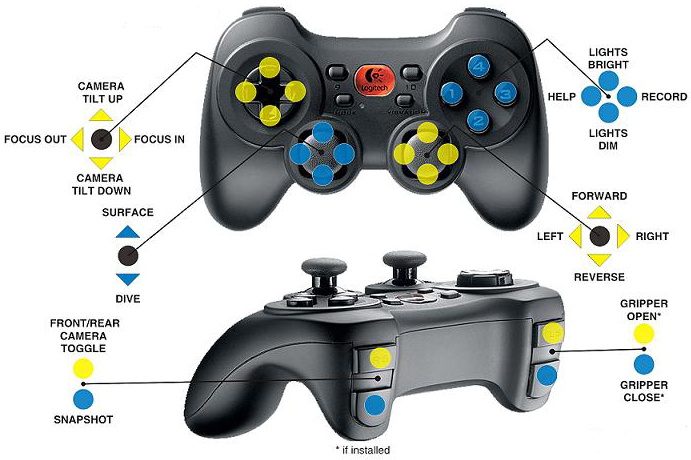 PS3
Left bumper - open left hand
Left trigger - close left hand
Right bumper - open right hand
Right trigger - close right hand
Platform movement ?
Using a PS3 controller on windows works well if you fake it out to use the XBOX 360 device driver.  There's a video link below that shows how to set it up.  If you plug in the PS3 controller and you see it show up as an XBox 360 controller in your "Device and Printers" settings page (in windows control panel), it will work with MRL.
References:
Other Controllers
Razor Hydra
There appears to be a java warpper for the razor hydra
http://sixense.com/forum/vbulletin/showthread.php?4056-Java-wrapper-for…
[[home/kwatters/UberJoyInMoov.py]]