Hello everyone!
It's been almost two years now that I bought a Orbbec Astra to replace the Kinect 360 on my InMoov robot.
Why? Because it is smaller, it can "see" at a closer range and most of all, it is powered via the USB 2 plug.
Finished the huge power cords and power supply just for having a Kinect.

Now that being said, how do I make this thing work in MyRobotLab?
So what I did is, add the Astra drivers directly into two directories:
C:\myrobotlab\myrobotlab.1.1.74\libraries\native\OpenNI2\Drivers
C:\myrobotlab\myrobotlab.1.1.74\libraries\native\x86.32.windows\win32\OpenNI2\Drivers
I am guessing only one directory should be enough, but since I don't precisely know what to do...
Oh Magic!! the camera is recognized by MRL and captures the depths: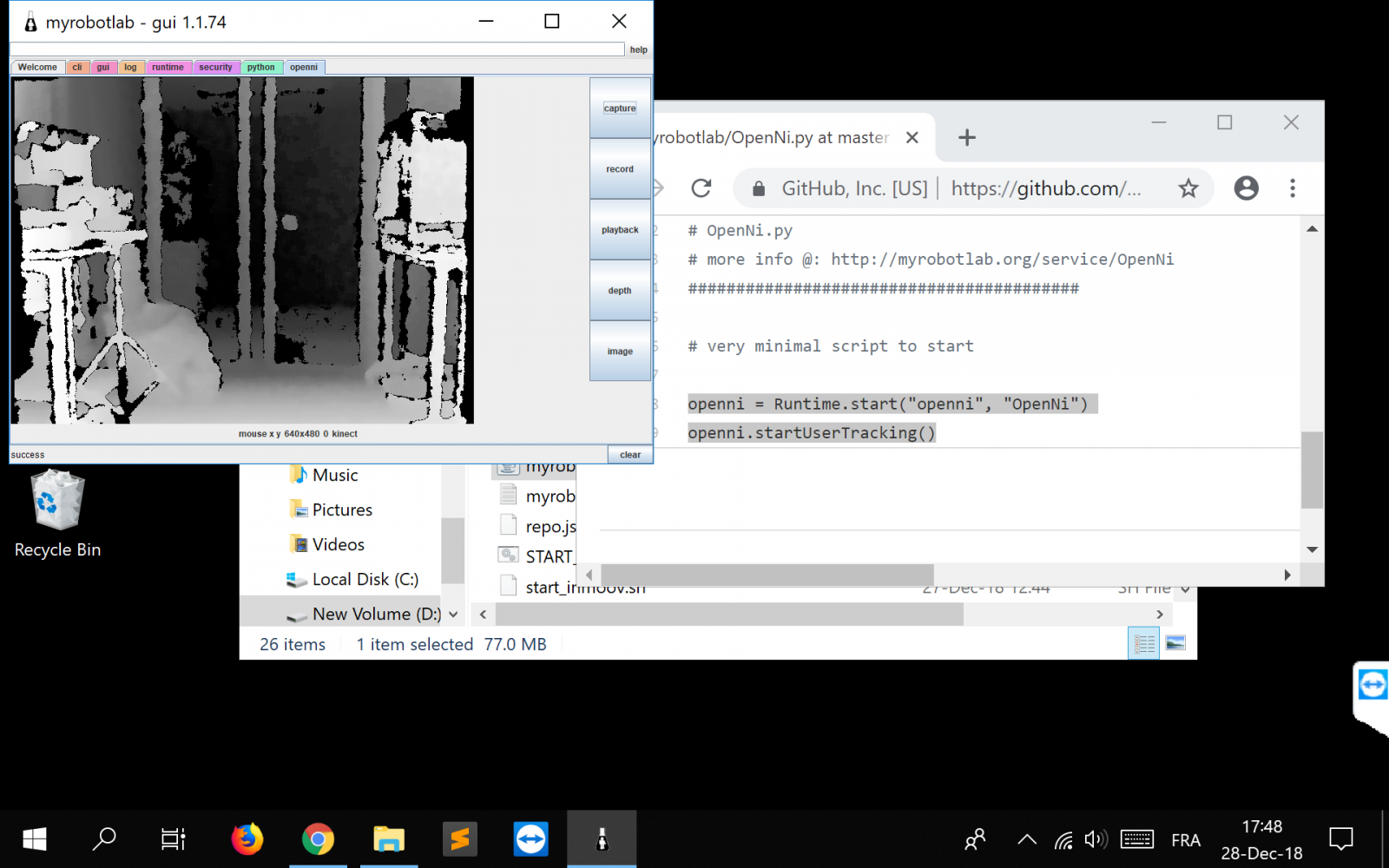 Now the next step is to get the camera to body track the skeleton.
And at this point I am stuck. I tried to add some of the ASTRA SDK jar files into the jar directory, but it is like looking for a needle in a haystack, specially when you really don't know what should be done.
Does it need it's own body tracking or can it use the same body tracking than the kinect 360? I have no idea.
Here are the links to the ASTRA body track SDK and drivers:
https://orbbec3d.com/bodytracking-sdk/
https://www.dropbox.com/s/oyw9pcfrf0zgck1/Driver_Windows.zip?dl=0
Some Github codes I found: https://github.com/shinselrobots/astra_body_tracker
UPDATE: some more code I found:https://github.com/robotBing/skeleton_follow/blob/master/src/skeleton_follow.cpp
Currently to get the Orbbec Astra or KinectOne working as depth sensor, I just copy past the drivers within the directory libraries\native\OpenNI2\Drivers.
Any good help or suggestions are FULLY welcome.
:)
UPDATE 18/06/19: The Intel real Sense seems to be a good choice as well, I do not have one but many users are talking about it and questionning if it might work with the next MRL release.
Here is a link to a post on InMoov siteabout some questionning and test recently done on version Nixie 1.1.173.
UPDATE 05/10/2019 found something on github for to get the skeleton on kinectV2 but not Orbbec Astra https://github.com/pierrep/ofxNI2