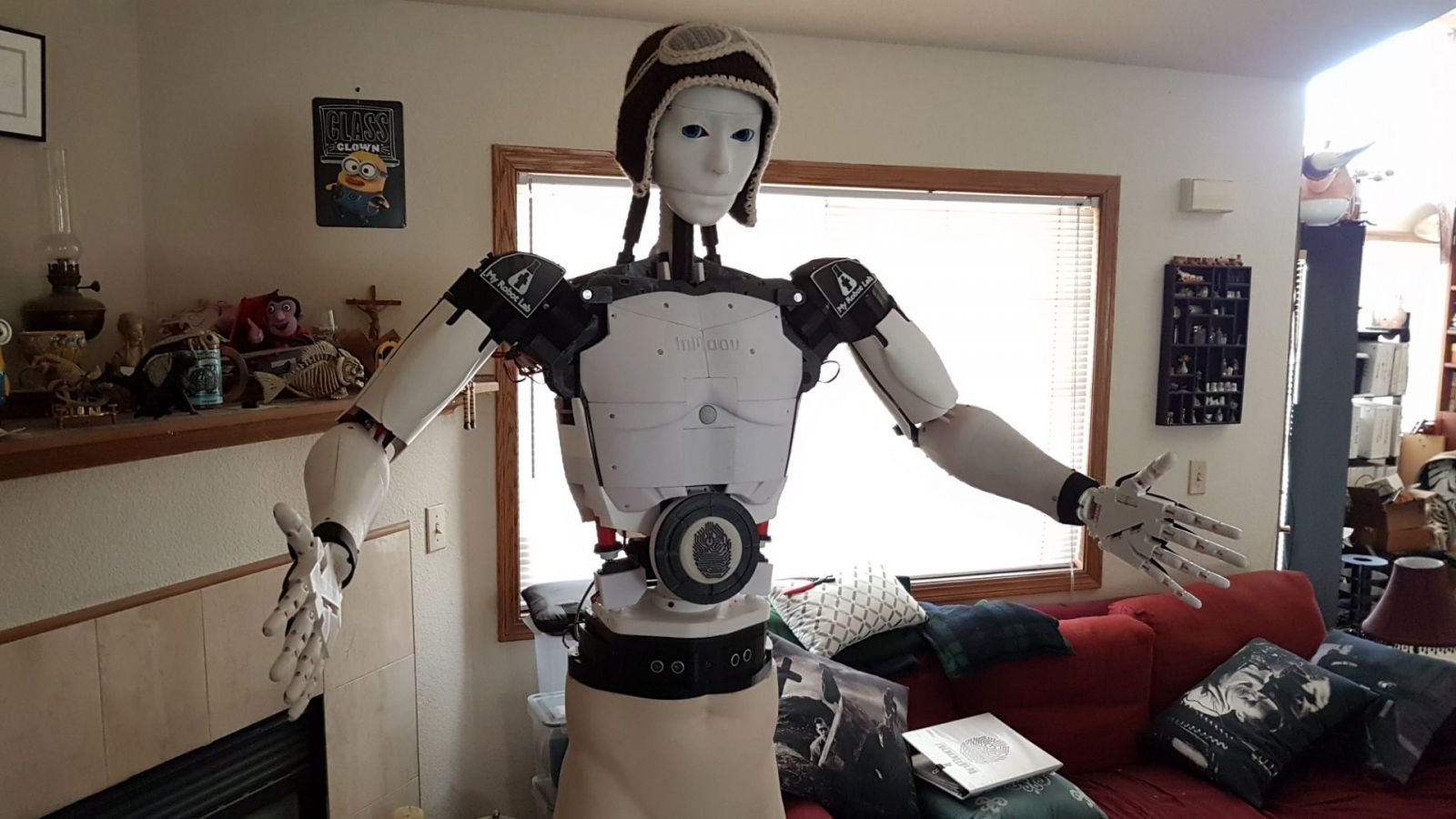 Hi Folks
quick introduction and some questions. My robot is called Kryten, after the humanoid robot in the Red Dwarf series. He is pretty much build standard Gael, with the addition of the articulating stomach.
he stands on a manequin leg set liberated from a local department store, which makes him, ohh, about 6 foot 8 inches tall
currently the host computer is win10, with Nixie 1.1.16178093 running 2 arduino megas
am at the point where I am doing test runs and am running into a few anomalies.
if I set ScriptType=Virtual, in the _InMoov.config file, the chatbot remembers the robot name and my name, every time I set ScriptType=Full, it insists its the first time it runs and wants to know what the robot name is, to name a few. set Full back to Virtual, reboot, and it knows all these facts again. 
question: why should it matter if the robot is in Full or Virtual mode, and where is the flag that signals First Time run??
when I start in Full, and have isHeadActivated= True in skeleton_head.config. when the head services start, the head.neck and the head.rothead services show they are attached, but i can't move them with the sliders. If I detach, and re-attach, then stop and start the head.timer , these servos will spring to life. sometimes I have stop and start the head timer, sometimes just stop the head timer. But i always so far have to do a detach re-attach sequence for those two servos. Yes the speed is set high enough.
Does anybody have asuggestion as to why alwasy just these two servo's?
looking for a way to test the ultrasonic sensor(s) attached, maybe a single line of py code or so. May I suggest an enhancement to the ultrasonic service in the web gui, by having a Test button, that would fire of a single measurement and display this in the web page?
even with isNeopixelActivated=False, Nixie seems to want to see something on that particular comport, mine is via USB so has a NeopixelMasterPort=COM10 entry. Should it just not care with activated set to False?
lastly, for those who have gone before me with the articulating stomach, how have you hooked the servo up? A suggestion was made to use lowStom, but currently the torso config file only has an entry for topStom and midStom, although the torso.py in the skeleton subdir does have a single small entry to set lowStom speed but nothing more. At this point I was going to add lines for lowStom in torso.py, commensurate to the lines already there for topStom and midStom. 
any pitfalls by doing this?