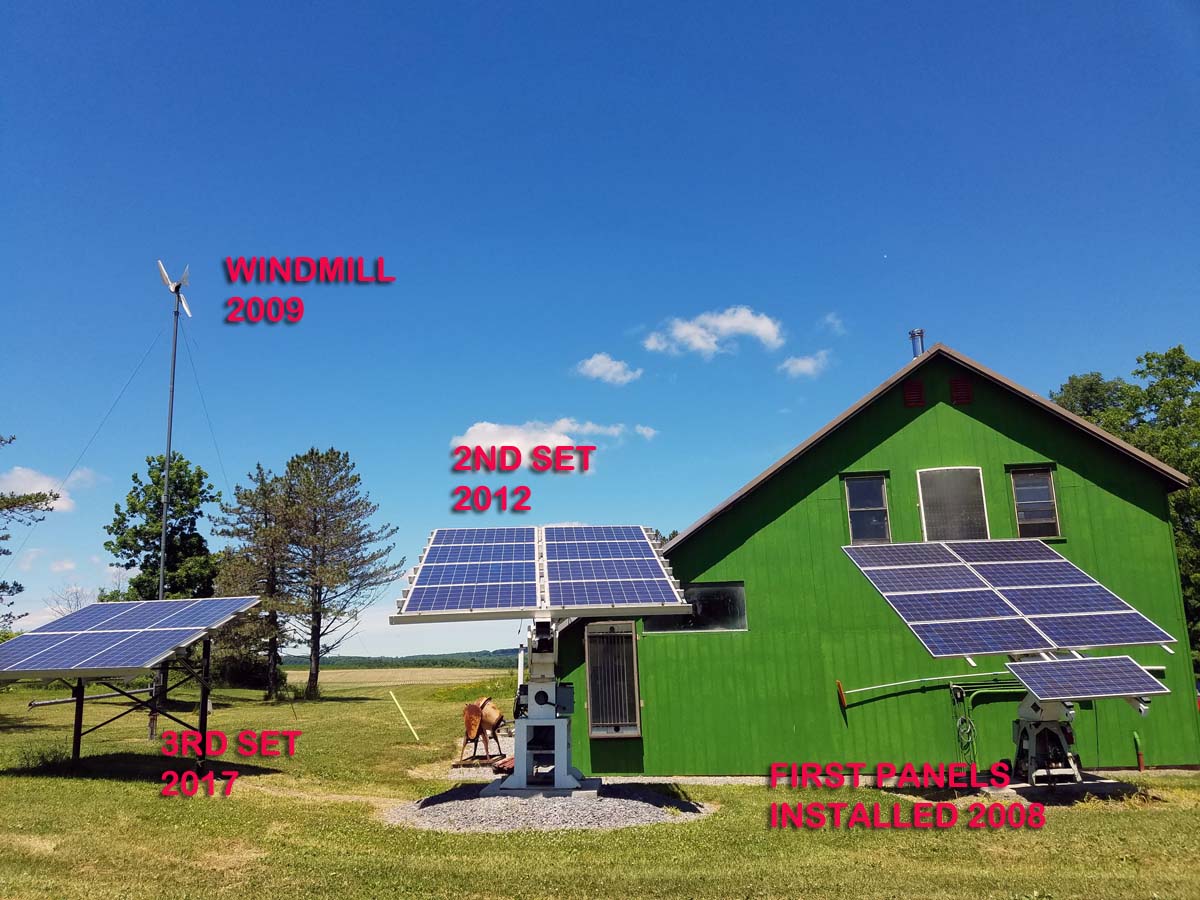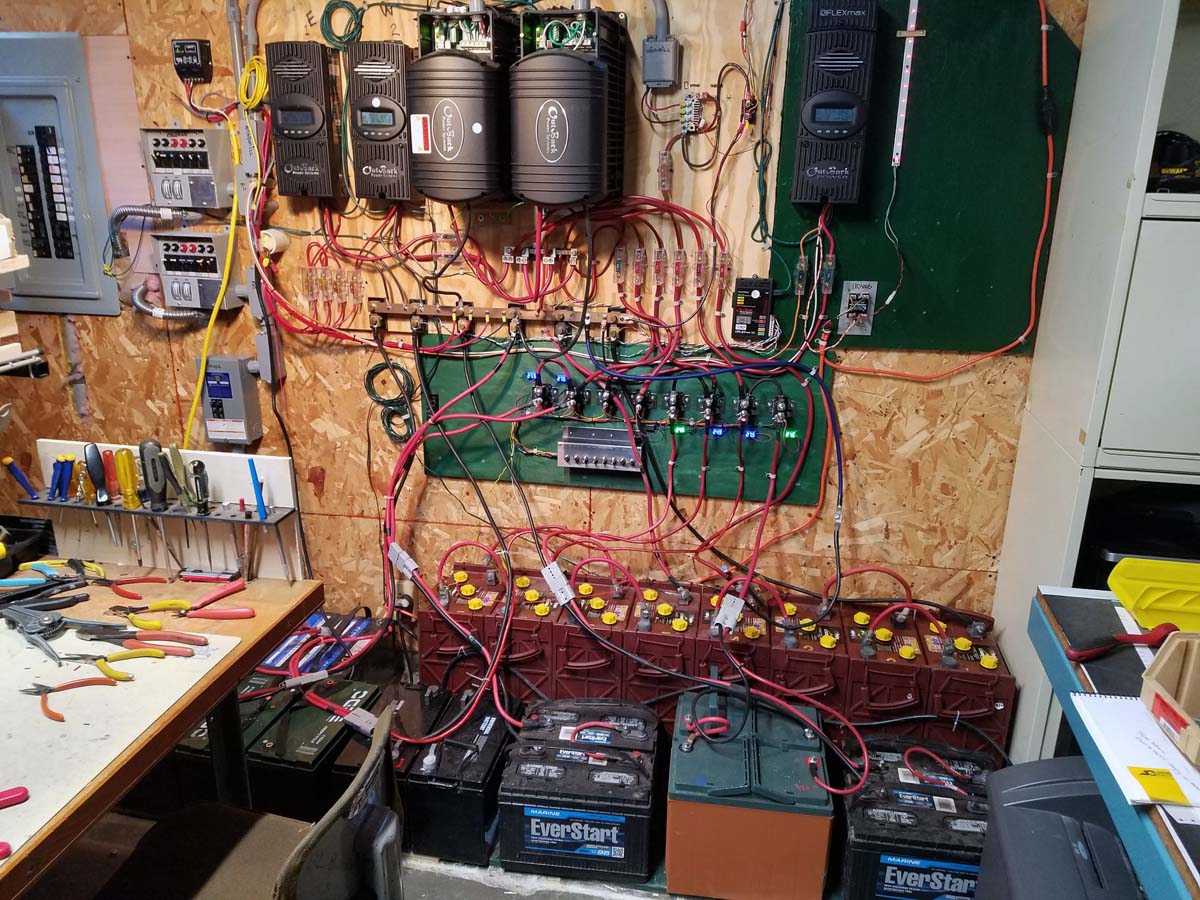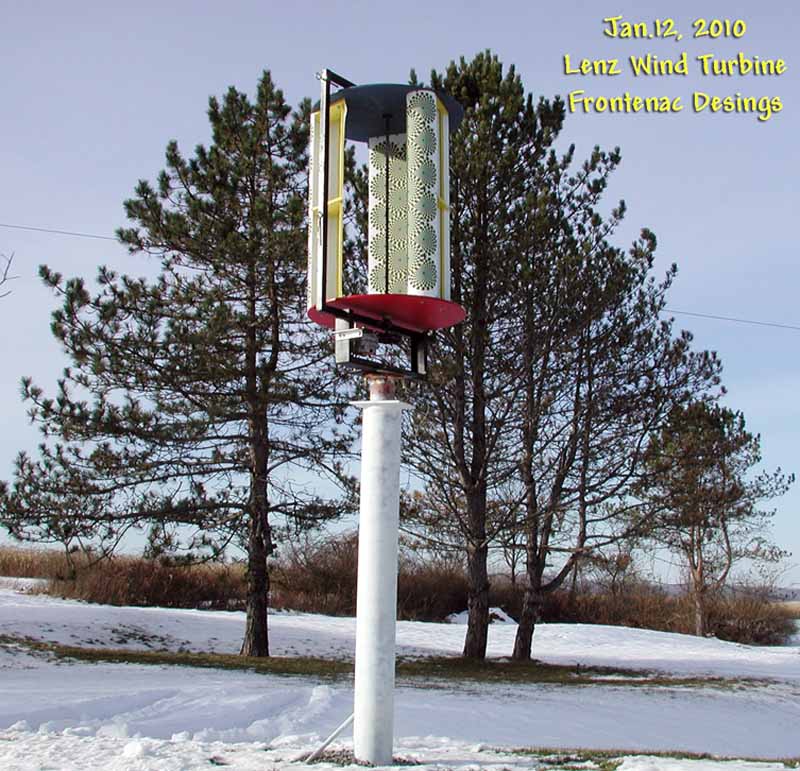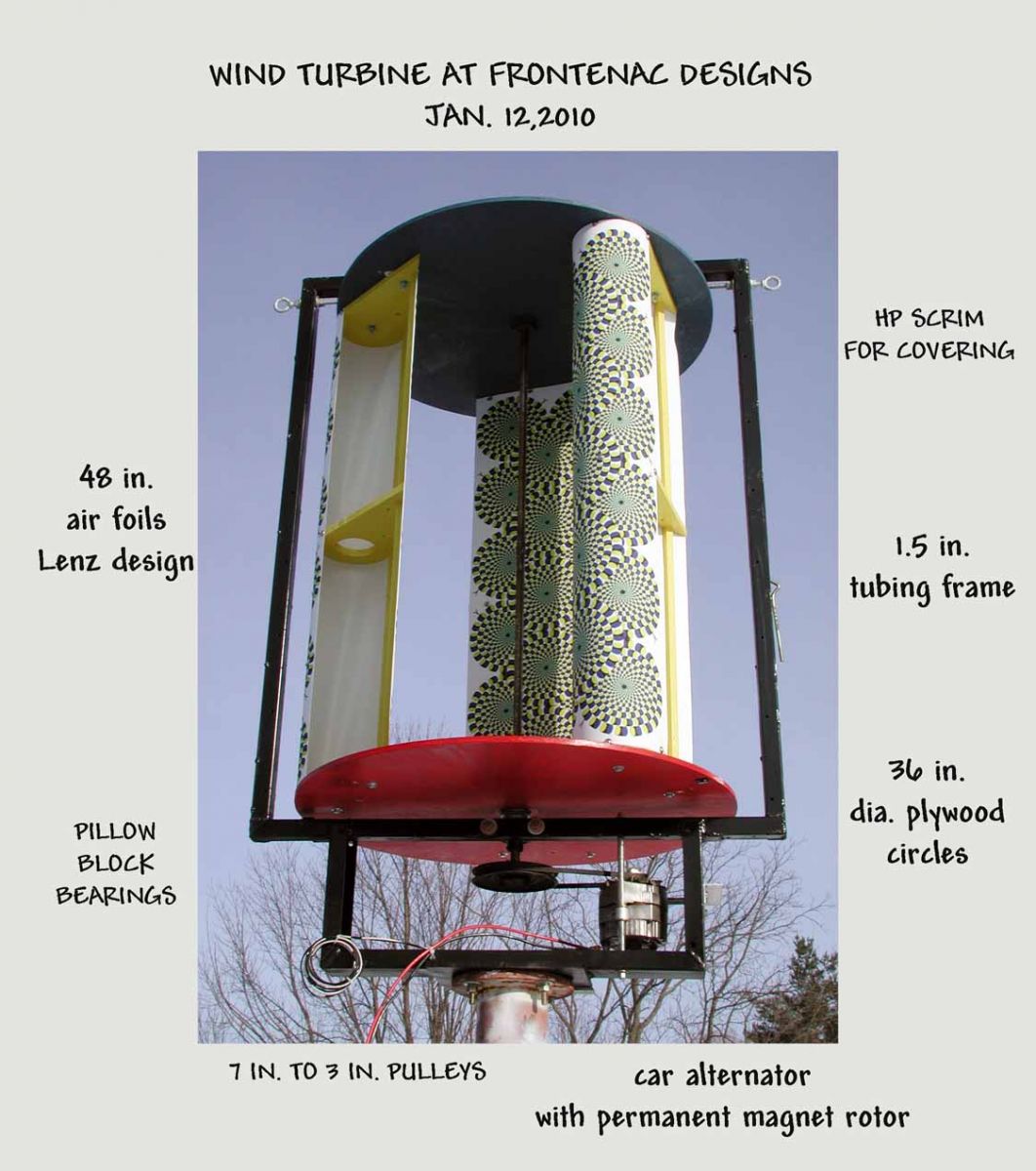 This MRL program monitors the solar output data streaming from an Outback Mate. My system has 3 solar chargers. One for each solar array, two controllers are Outback MX60's and one is an Outback MX80. The solar panels are hooked up in series and feed into the solar chargers. Hooking the solar panels in series allows for a smaller gauge wire from the panels and less voltage drop (higher voltage/less current). Each solar array has 8 220 watt panels. The solar chargers charge 24 volt batteries. I have 8 sets of batteries installed and am able to enable/disable each battery pack. So I don't have all the battery packs hooked to the system at the same time. The red looking batteries are 6 volt and are meant for a solar system. The black batteries and others, I have picked up at a salvage yard and are 12 volts. So four 6 volt batteries in series gives me 24 volts, or one battery pack, and two 12 volt batteries in series does the same. I have two outback FX DC to AC inverters which supply 120 VAC each to my shop. With two you can link them to give 220VAC. The Outback parts are connected together using Outback Hub. You can monitor and program each part by use of an Outback Mate which also plugs into the hub. The Mate streams out serial data on each part in the system at 19200 baud all the time. One difficult thing is the Mate's serial port is opto isolated and powered by the serial line plugged in to it. Therefore the software needs to be able to set DTR and RTX (thanks Kev). I also have a battery monitor unit from Outback that allows you to monitor the current in and out of three sets of batteries.
The MRL program, I wrote, receives the data from the Mate and displays it on a PC. Or a device running MRL. If I get everything setup on raspberry pi running MRL I should be able to remotely log in and monitor my power system. I could even have it talk to me in different languages and cycle my battery packs. The first step was being able to collect and display the data. I started working on the power system for my shop in 2008 and have gone through a lot of batteries and changes. Solar batteries seem to last about 5 years and 12 volt batteries much less. I am hooked to the grid for backup power, but do not feed back into the grid. There are many rules in the US about feeding back to the grid.
Two sets of my panels I built on bucket truck backs or lifts so I can hydraulic angle and rotate them. I only angle them seasonally, around four times a year. In the summer months the panels are pretty flat and I produce enough power, there is no need to rotate them. In the winter months at my latitude, I see an increase in power produced if I turn them and scrape off the snow. I have installed everything myself, more as a hobby. I don't expect to break even on the cost, as I keep adding to and changing the system.
I am not really a programmer but have had the MRL program running more than a week.
Examples of the output of the six Outback parts being monitored by the MRL program:
Current date and time: 2018-06-21 16:55
('FX DC to AC inverter bat volts=27.0', ' AC volts=120', ' AC amps=1', ' AC Mode=0')
('FX DC to AC inverter bat volts=27.0', ' AC volts=120', ' AC amps=8', ' AC Mode=0')
('Bat Temp in C=41', ' ShuntCur1=0.2', ' ShuntCur2=3.1', ' ShuntCur3=0.4', ' Battery Percent Charge=100')
('MX solar charger PV volts=96', ' PV amps=7', ' charg Bat amps=22')
('MX solar charger PV volts=82', ' PV amps=10', ' charg Bat amps=30')
('MX solar charger PV volts=101', ' PV amps=2', ' charg Bat amps=7')
Current date and time: 2018-06-21 16:57
('FX DC to AC inverter bat volts=26.8', ' AC volts=120', ' AC amps=1', ' AC Mode=0')
('FX DC to AC inverter bat volts=26.8', ' AC volts=119', ' AC amps=8', ' AC Mode=0')
('Bat Temp in C=41', ' ShuntCur1=0.2', ' ShuntCur2=2.8', ' ShuntCur3=0.3', ' Battery Percent Charge=100')
('MX solar charger PV volts=96', ' PV amps=6', ' charg Bat amps=21')
('MX solar charger PV volts=82', ' PV amps=10', ' charg Bat amps=29')
('MX solar charger PV volts=98', ' PV amps=4', ' charg Bat amps=13')
Current date and time: 2018-07-05 15:55
('MX solar charger PV volts=97', ' PV amps=4', ' charg Bat amps=16')
('FX DC to AC inverter bat volts=25.2', ' AC volts=120', ' AC amps=0', ' AC Mode=0')
('FX DC to AC inverter bat volts=25.2', ' AC volts=120', ' AC amps=0', ' AC Mode=0')
('Bat Temp in C=38', ' ShuntCur1=0.0', ' ShuntCur2=9.9', ' ShuntCur3=1.1', ' Battery Percent Charge=90')
('MX solar charger PV volts=69', ' PV amps=8', ' charg Bat amps=22')
('MX solar charger PV volts=80', ' PV amps=8', ' charg Bat amps=24')
Current date and time: 2018-07-06 13:42
('1', ' FX DC to AC inverter bat volts=25.2', ' AC volts=119', ' AC amps=0', ' AC Mode=0')
('2', ' FX DC to AC inverter bat volts=25.2', ' AC volts=119', ' AC amps=0', ' AC Mode=0')
('C', ' Bat Temp in C=37', ' ShuntCur1=4.2', ' ShuntCur2=4.4', ' ShuntCur3=0.1', ' Battery Percent Charge=90')
('E', ' MX solar charger PV volts=88', ' PV amps=3', ' charg Bat amps=11')
('F', ' MX solar charger PV volts=78', ' PV amps=5', ' charg Bat amps=16')
('G', ' MX solar charger PV volts=76', ' PV amps=5', ' charg Bat amps=15')