So my idea is to be able to input my move in 1 player chess mode of my chess robot via my iPad. This will be done using the Touch OSC app. 
I have made an app using their program. It is basically a chess board layout of buttons.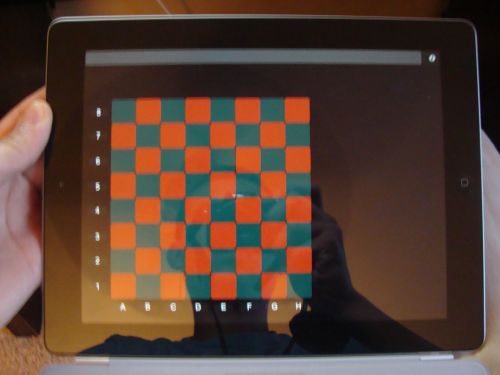 So far I have the app and a little Processing sketch. The app sends a message to the Processing sketch which will pick it apart and figure out which button was pressed. The processng sketch uses the oscP5 library and netP5 library. When the messages come through the oscEvent function is run. The button presses come through in the form of "/1/push(button#)". So the first button would come through like "/1/push1". I have the buttons arranged in ascending order from a1 being button '1', a2 is "2"... This allows my processing sketch to turn the number into a chess square position. A message is sent at the press and release of a button. The program ignores the release when it comes to figuring out which chess square is pressed. After 4 messages, the program adds an ending character ('z') to be sent to the Arduino.
Hopefully this can be integrated into MRL.