bhouston asked if it was possilbe to start with Python service automatically on startup. I'll be including bat files which do this again shortly, but in the interim I'll show you how to create your own.
From the command line you can start any service(s) in addition you can actually invoke any command too... You could automatically run a script, which potentially is quite powerful.
This is how ..
In your favorite text editor make a myrobotlab.bat file next to the myrobotlab.jar
Edit the file and put the following line.
java -jar myrobotlab.jar -service gui GUIService python Python
The -service says which services to start .. the following parameters will be in pairs.
The Service "name". In this case "gui" and "python" followed by their Service Type GUIService & Python respectively.
That's it !
To invoke a command .. say automatically execute a python script do the following
java -jar myrobotlab.jar -service gui GUIService python Python -invoke python execFile myScript.py
This tells the Service name "python" to run the exeFile method with the parameter of "myScript.py" .. so basically execute myScript.py on startup.
Within the script you could do pretty much anything else, start a robot, start the kinect, speak the joke of the day...
The myScript.py would need to be in the same directory as the other two files (myrobotlab.bat & myrobotlab.jar) like this....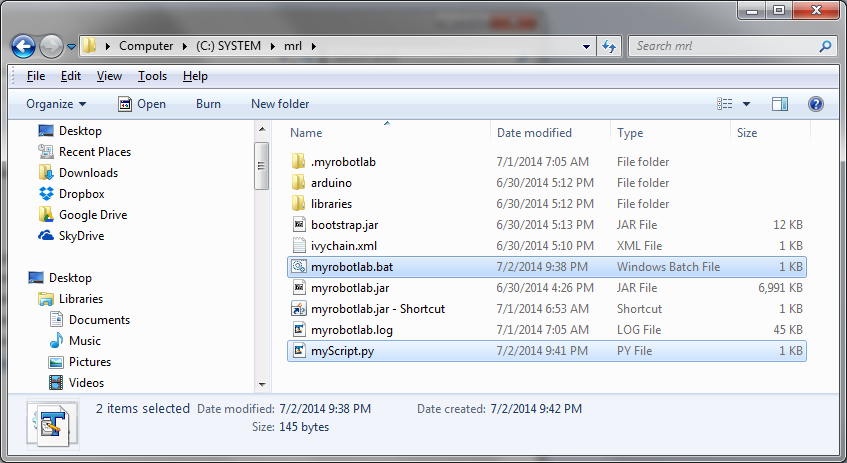 new myrobotlab.bat & myScript.py

myScript.py... in this case it just starts a servo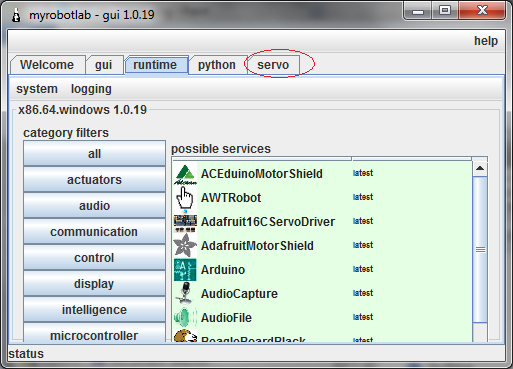 And viola !.. a python service & a servo automagically created on startup :)